DEARBORN — Reckless driving has escalated in Dearborn, but police say not for long as they crack down on speeding and drag racing by boosting both patrols and ticketing.
Dearborn police have been tackling the issue for years — writing more than 40,000 tickets annually — but the recent motorcycle accident that killed two youth and the new data regarding crashes have triggered traffic enforcement intensification.
On June 12, Muhammed Al-Dairawi, 22, crashed his motorcycle into a Ford F-150 on Ford Road as the pickup truck exited the Ford Drive-In. Al-Dairawi was pronounced dead at the scene, while his passenger, Heba Bazzi, also 22, later died in the hospital.
Both the community and the police know that such fatal accidents — and other non-fatal ones — are not new to Dearborn.
"The troubling trend of these fatalities and very critical accidents have told us that all the prevention, all the awareness and all the enforcement and education are not good enough," Chief Ron Haddad said. "We're data driven… the data bears out that it's getting worse and when people are getting killed, that's not acceptable. So, Dearborn police has escalated their education as well as their enforcement to drive home a point."
Alarming data and community complaints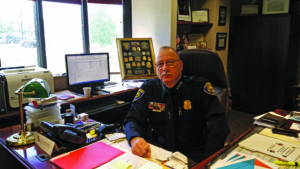 According to the data provided by the Investigative Division, 3892 crashes occurred in 2015, while 4241 did in 2016 — an 8.96 percent increase.
To date, there have been 2031 crashes in 2017 compared to 1919 crashes at this point in 2016— a 5.84 percent increase.
By this point in 2016, there were only two fatal accidents, but there have been seven crash fatalities to date this year — a dangerous 250 percent increase.
Haddad said, other than the data that speaks for itself, he hears the residents and wants them to know the police are on it.
Soon after the deaths of Al-Dairawi and Bazzi, police ticketed 90 people in only one day for irresponsible driving.
In the past week, more than 300 drivers received tickets and about 25 cars have been impounded for reckless driving alone.
"I'm personally sensitive to young people and tickets because I know it's not a positive thing for them," Haddad said. "But, I would write a million tickets for one family not to have a funeral that was not anticipated, so I'm not going to apologize for it."
Amplified measures taken

Haddad said police have filled areas in the city where most of the reckless driving happens. They also always have a tow truck on hand.
He added that he can't give too many of the secrets.
"We're not trying to trick anybody," he said, as police cars are highly visible in the areas. "If [people] get caught speeding and drag racing, we have ways to stop them now and I'm just going to let it go at that. We have developed a technique to find them and stop them and when we get them, we're going to charge them with the full extent of the law."
Chief Haddad also said police use laser guns to measure the speed of vehicles and allowed The AANews to observe how in a ride-along with Lieutenant Andreas Barnett.
Barnett explained the process before heading out onto Ford Road, where he caught two people driving over the 50 MPH speed limit — at 63 and 81 respectively — in less than an hour.
He said the laser shoots out a beam of invisible infrared light as you look through a scope and target the bumper of a car with the red dot, but first you have to visually estimate the speed of a car. It takes two readings, the time that the laser takes to reach the car and the speed of the car.
"Once it gives you the reading, that's an accurate reading," Barnett said.
What police are aware of
Haddad said police have learned that some parents lease cars, usually high-horsepower ones, for their children, who go out and install big tires on them, burn them up and then put the regular tires back on when they have to take the vehicle back to the company.
The tire burnouts are mostly done in preparation for drag races. The practice involves keeping the vehicle motionless, only spinning its wheels to heat up the tires — which produces smoke due to friction.
"You're giving a young person a bad message," he said of parents who get their kids such high performance cars. "Same thing with these high speed motorcycles, they're often referred to as crotch rockets. They're a death waiting to happen."
Haddad said parents have a responsibility to stop these performances and must think of what their sons or daughters might do with those vehicles.
I would write a million tickets for one family not to have a funeral that was not anticipated. – Chief Ron Haddad
"Now insurance companies put monitors in cars to see how you're driving," he said. "Parents have the right to do that as well. They have a right and an obligation to monitor what their [kids] are doing."
Haddad added that having friends, siblings or cousins in the car increases the danger because the young driver can be talked in to risks or become distracted.
"So, parents need to really take account and give great guidance to young people with vehicles," he said.
When confronting youth about drag racing or speeding, Haddad said the number one answer they give is, "It's fun to do."
"This is not an indictment of our young people, but they're inexperienced and they don't evaluate risk very well," he said. "We want to get to them, educate them… enforce the laws at a very high level and hopefully they'll get the message."
Supportive community
According to Haddad, community members have been helpful in reporting reckless driving all over the city. He said they want order as it's the number one complaint in Dearborn, adding that the data clearly backs it.
He noted that the streets have gotten more dangerous, and that some older drivers are as much to blame as the young ones.
"[They] are pretty careless as well," he said.
He said that Mayor Jack O'Reilly, many elected officials and community members, as well as the media, support the enforcement and that the police won't let them down.
"The community in one voice has complained," he said. "Businesses, schools, churches, mosques, neighborhoods have all [done so]. I get the message and I hear them loud and clear. The best gift we can give our community back is order, and that's our intent."