DEARBORN — There is little doubt that Arab Americans have become significantly more civically engaged in the past decade, yet Dearborn residents and businesses have not yearned any less for their issues to be better adequately reflected in city government.
In this Detroit suburb – with about half its population as Arab Americans, according to the U.S. Census, along with refugees and other recent immigrants– in which residents are persistently fighting negative stereotypes about their cultures and false rumors of sharia (Islamic) law ruling the city, one would think they'd work for the city in great numbers.
However, even as officials promise diversity in government, documents obtained by The AANews reveal Arab Americans may have little say in how Dearborn's government is run.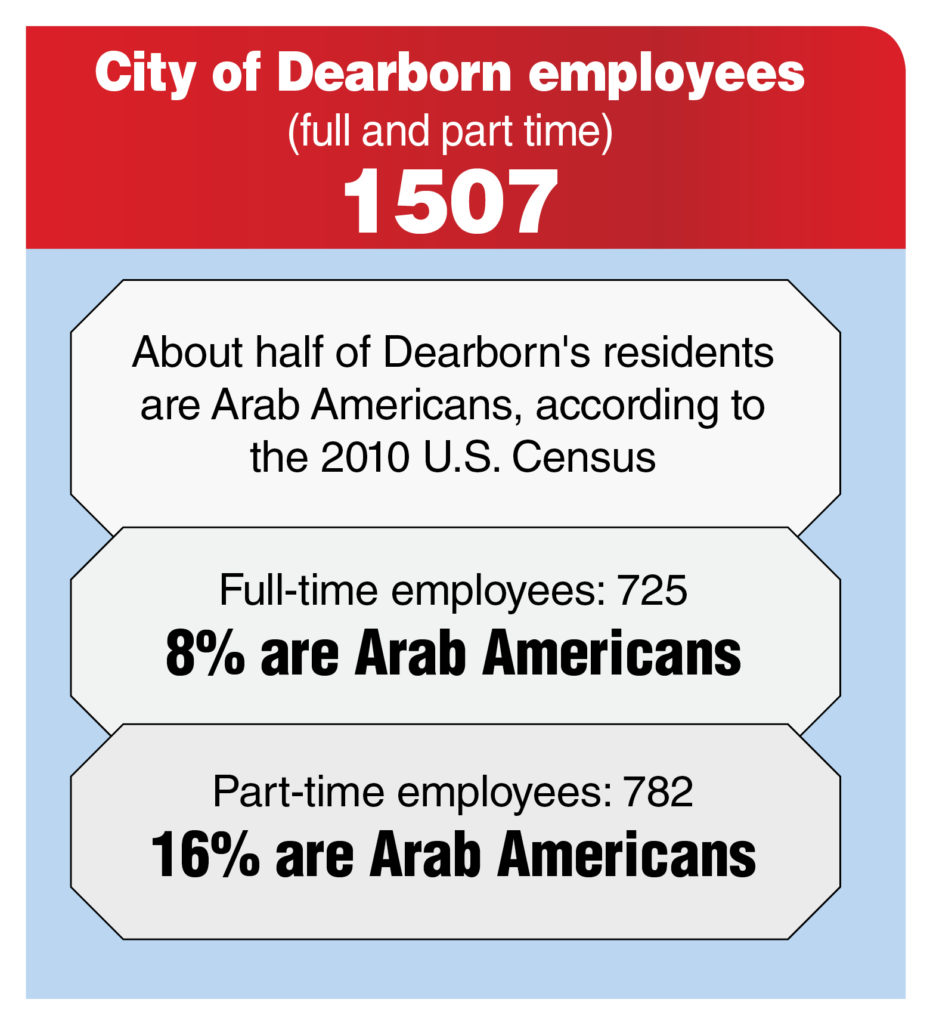 Of the city's 1,507 full-time and part-time employees in every department– from a sewage maintenance mechanic to a police officer and the mayor – 12 percent have last names that appear to be from an Arab background, according to city records as of the beginning of August.
About 8 percent of the city's 725 full-time employees are Arab Americans. Of part-time workers, 16 percent are Arab Americans.
Dearborn employs about 1,000 additional temporary and seasonal staff, about half of whom work for the city's Recreation and Parks Department. Those personnel are not included in the calculations.
The Dearborn Police Department employs the highest percentage of Arab Americans within city government. Of the 242 employees, 14 percent are Arab Americans.
Of the 190 officers, 16 of them – 8 percent – are Arab Americans, according to Nancy Hamood Strutz, assistant to Dearborn Police Chief Ron Haddad. Haddad is an Arab American.
An additional 17 Arab Americans work in the department's administration and as dispatchers, among other positions.
The AANews reported last April that four Arab officers quit the department over the past three years. Two officers claimed they'd been harassed by fellow cops.
Local civil rights groups have charged that Dearborn cops often harass Arab and African Americans and use inappropriate tactics, and that the department lacks transparency.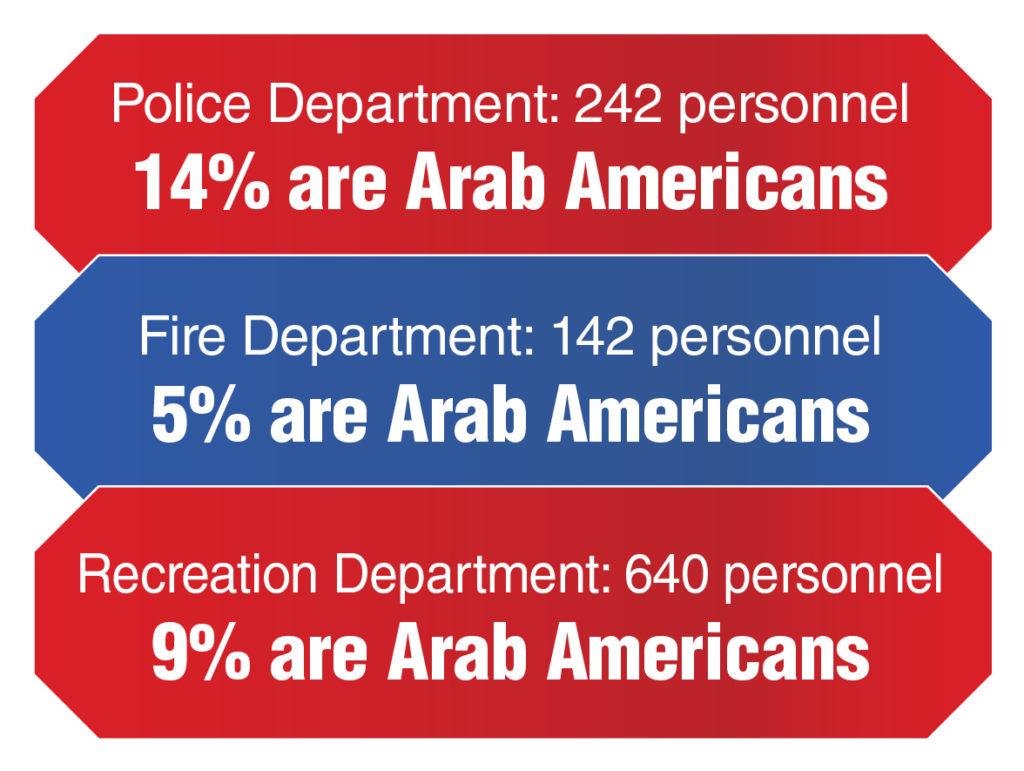 About 17 Arab Americans work at the 19th District Court, including judges and court reporters.
The local Mediterranean natives have made themselves feel at home, as the Recreation Department employs the second highest number of Arab Americans at its pools, mainly
as part-time lifeguards. Those are separate from the additional seasonal lifeguards.
About two dozen more work in the Recreation Department's operation of parks, sports, cultural arts program and other facilities across the city. None work for the department's community center and child care program.
Nine percent of the 640 employees are Arab Americans.
Nine Arab Americans work at Dearborn's public libraries and another nine work for the housing department. They employ the third highest number of Arab Americans.
Seven Arab Americans work at the Fire Department, which is 5 percent of the total 142 employees.
Four or five Arab Americans each work in the Engineering, Public Works, City Council and Accounting departments.
One or no Arab Americans work in the following departments: City Clerk, Human Resources, Public Information, City Legal/Planning, Information Systems, Residential Services, Assessor and Historical Commission.
Last month, The AANews reported that 16 percent (36) of Dearborn's 221 volunteer commissioners are Arab Americans. They work within 24 different commissions to advise the City Council and mayor on matters related to local ordinances, zoning, housing, traffic safety, business developments and other issues. For information about available employment positions in Dearborn, visit www.cityofdearborn.org/services/human-resources.