WASHINGTON – White House Press Secretary Sarah Huckabee Sanders says that she expects America is going to be "begging" for a second Donald Trump term in about three years.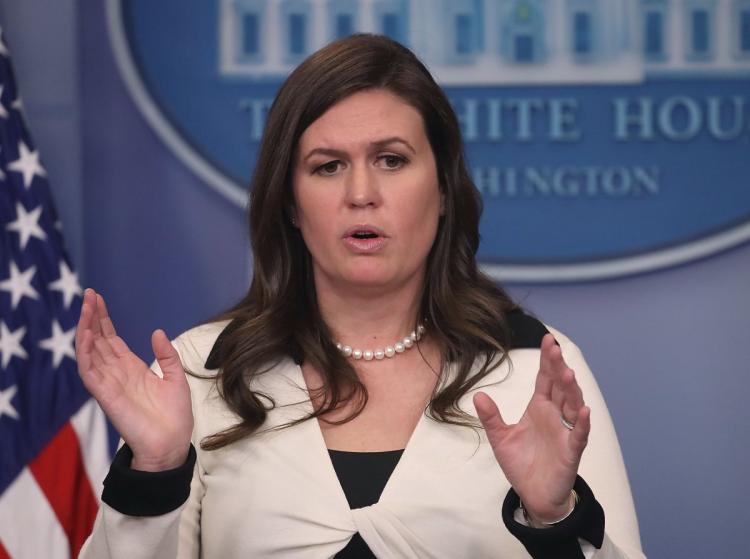 Sarah Huckabee Sanders says that the Trump administration is going to have plenty of major achievements by the end of the term
Sanders, during an appearance with Hugh Hewitt, said that the first nine months of Trump's presidency have been "incredibly successful", and that she has confidence that her boss will be able to win reelection easily.
"I think the next three and a half, or two and a half, three years are going to be equally as successful," Sanders said.
"Including getting tax reform done, which is going to be a big deal, and make a really big impact on most Americans, and they're going to be begging for four more years of President Trump," Sanders said.
The President currently has one of the lowest approval ratings in modern history, with just 37 per cent of Americans saying they approve of his job performance. That's the lowest for any president going back to the 1950s at this point in their first term. He falls behind President Bill Clinton, who eventually won a second term in office, who had a 48 per cent approval rating at this point in his first term.
Trump has so far failed to work with Congress to pass any major legislation, and have failed several times to repeal and replace Obamacare. That failure has occurred even though Trump's party is in control of both the Senate and the House of Representatives. The House has been able to pass a healthcare bill, but it was not taken up in the Senate. The Senate has struggled several times to create a bill that could attract the 50 votes that were needed to move forward.
Congress is currently considering a budget before the end of the year, which is seen as a necessary component to set up their efforts to tackle tax reform early next year.